NATO Days in Ostrava & Czech Air Force Days 2023
20. 9. 2023
Weekend 16th and 17th September is very important date in terms of defence thanks to the NATO Days in Ostrava & Czech Air Force Days 2023 – event where we certainly couldn't miss. Common stand of group MNIPOL was once again a spot where we were honoured to welcome important guests such as our business partners, representatives of public administration and specialists in field.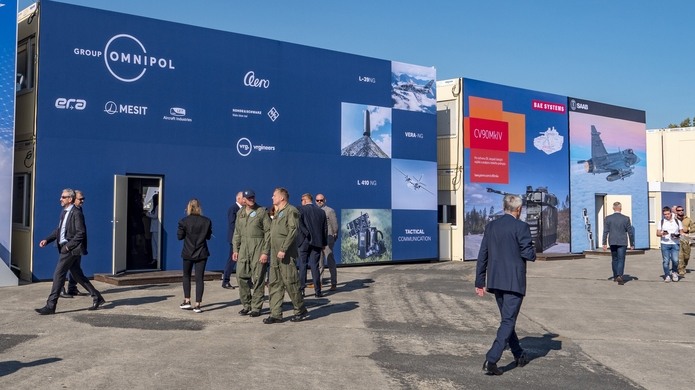 Our presentation was focused on tactical communication systems and our knowledge in area of sophisticated flight system development. Guest had opportunities to get to know our newest technologies and projects in defence and aerospace.
Our VIP stand was visited by many eminent personalities of current political scene, including Prime minister Petr Fiala, Minister of Defence Jana Černochová, Commander of the Czech Air Force, Maj. Gen. Petr Čepelka and Chief of the General Staff of the Czech Armed Forces, ACR, Lt. Gen. Karel Řehka. We welcomed many delegations not only from Czech Republic but also Ethiopia, Lithuania and Slovakia – which was represented by Minister of Defence Martin Sklenár. Meeting with these prominent personalities as well as with business partners was a great opportunity for intensive discussions about our future cooperation in aerospace and defence industry.
This year's event attracted record number of visitors – 185 000. This was definitely caused by busy schedule as well as by the nice sunny weather. Visitor could check out numerous exhibits, starting with ground military vehicles all the way up to transport category aeroplanes. There were continuous fascinating exhibitions of common military technologies taking place on a stage ground. All of that with emphasis being put on the topic of modernization. It was indeed very interesting to watch the differences between older and modern technologies. Also, presentation of technologies of partner countries rose big interest among the spectators.
The group OMNIPOL together with our sister companies ERA and Aircraft Industries and also with our partners company Aero Vodochody, Rohde & Schwarz and VRgineers were introduced all together in the VIP zone stand. We are very proud about our participation in this prestigious event, and we are looking forward to a next year, where we would like to continue with our intensions of cooperation on innovations and technological progress in the area of defence and aerospace.